What Are the Top Benefits of AWS Certification?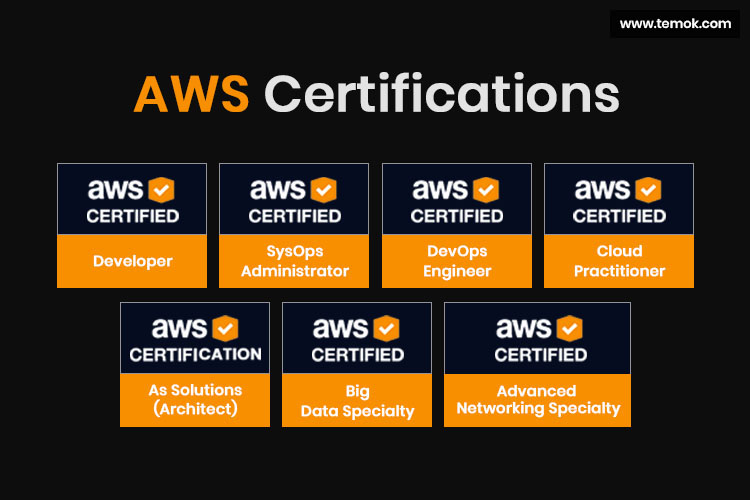 Cloud Computing is the future! More and more companies have been adopting the cloud in their business models to facilitate work and promote cost reduction. According to a study by International Data Corporation (IDC), more than 80% of large companies will use hybrid cloud environments in the coming years.
The expansion of cloud services and its adaptability across different industries has created a multi-billion dollar economy where many cloud providers like AWS, Google Cloud, Azure, etc. compete for a glorious cloud market share. A doubled worldwide expenditure on public cloud services and infrastructure in the next five years is predicted. From $229 billion in 2019 to almost $500 billion by 2023, this leap is very interesting.
Among these big players in the cloud infrastructure market, AWS has emerged as the dominant market player and the demand for AWS certified professionals is at an all-time high. This article outlines the benefits of getting AWS certified.
Amazon Web Services or also known as AWS is Amazon's set of cloud computing tools and services. These services include management of virtual images, development of mobile applications, on-demand delivery of computing capacity, database storage, applications, and other resources through a cloud platform over the Internet and with a consumption-based pricing system.
Why AWS?
The strengths of AWS are undoubtedly adaptability and scalability. Some other reasons why it has been widely adopted by over 100,000 businesses across 190 countries include –
Low cost – Pay only for the compute power, storage, and other resources. The more users use it, the cheaper it is.
Flexible – You can select the operating system, programming language, web application platform, database, and other services as per your requirements.
Reliable – AWS ensures a scalable, reliable, and secure global computing infrastructure.
Secure – AWS utilizes an end-to-end approach to ensure better security.
What are the benefits of having an AWS certification?
Be a part of the most trending cloud platform – AWS is the market leader in a platform as a Service (PaaS) infrastructure as a Service (IaaS) market with around one-third of the total share. The current trends show potential growth in the future, making learning AWS a smart career move and a safe career choice. The below infographic shows the dominant market share of AWS in the field of cloud infrastructure.
Source – Statista
Build a solid foundation – As mentioned a number of times, AWS is the most competitive player in cloud computing, so the stakes are high! With AWS certification courses, you can prepare yourself to learn a lot before passing the AWS certification exam. It doesn't matter if you are a systems architect, a developer, or a SysOps engineer, starting from the basics is always the first and the best step forward.
AWS remains the most demanded skill – There is a shortage of skilled AWS professionals in the global cloud market. With organizations migrating their applications and other services from traditional IT infrastructure to the cloud, the demand for skilled professionals is slated to remain high. Becoming a certified AWS solutions architect will validate your ability to work on AWS solutions, thereby improving your employability.
Validate Your Expertise and Credibility – When it comes to expertise, credibility, and trust play the most important role. Having an AWS certification will prove your expertise to potential employers and clients, enabling you to build and maintain professional relationships. Having an AWS certification is proof that you have been through rigorous training, you have the skill expertise, and you are capable of successfully implementing the desired tasks.
Better Salaries – AWS certifications remains one of the top-paying IT certifications. According to recent estimates from the Global Knowledge survey 2021, Cloud computing remains the top IT skill, and having an AWS certification can improve the salary of a certified professional by almost 25.9%. The average salary estimate for a certified AWS professional is around USD 113,932.
Conclusion
With so many career benefits, earning an AWS certification is definitely a wise move considering the current market trends. To be certified, you would need to remain highly committed to your goals, in this regard, taking online AWS certification courses can be a good idea as these courses will prepare you for the certification exam. You would need to push yourself hard to earn the domain expertise. Choose the certification as per your professional requirements and be a part of the most in-demand tech community.
For more visit the article on this website.