How To Choose Artistic Wooden Gift Items For Friends?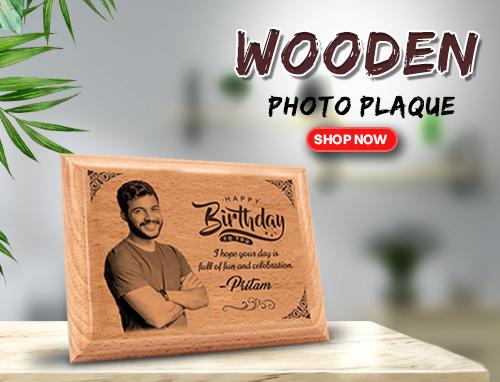 Some friends tend to have truly artistic inclinations. They have an eye for finesse. Pleasing such friends with the gifts you choose can be quite a tough job. Wooden gift items have an elegance and an old-world class. This is the reason why such gifts appeal to even those people with creative tastes. Here we have shared some tips to choose artistic wooden engraved photo gifts to create a lasting impression. Check them out:
Wooden Engraved Bangle Stand
Women are fond of getting ready and wearing jewelry. If you have a female friend who is artistic and loves to wear bangles, you can give her a nice wooden bangle stand. These stands have intricate patterns engraved all over them. These wooden stands can easily be dismantled. These are among the creative wooden gift items that women in India will love.
Wooden Book Holder
If you wish to give something to a bookworm in your circle, a wooden book holder is an excellent choice. These book holders can be folded back and placed in drawers once you are done reading the book. These book holders come with artistic designs and patterns. It is surely a work of art that most creative friends will appreciate.
Wooden Pen and Pen Box
If you are hoping to give something that can be customized too, you can choose a wooden pen and pen box. Online gift shops like Presto Gifts have unique options to customize wooden pens and pen boxes. It is possible to engrave the name of the recipient on the pen as well as the box. This is an apt gift from a creative employee or colleague at your workplace.
Wooden Customised Gifts
You can create lasting memories in the minds of your loved ones by choosing wooden gifts. You need to invest some time to pick the best photo to customize the gift. You may choose a solo photo of your loved one or a photo that includes you and your loved one. If you are choosing the gift for a special occasion, you can add a message to convey your wishes also.
Wooden Photo Frames
You can also capture memories and frame them in beautiful wooden photo frames. These can be ideal gifts to close friends and family members. The best part about these gifts is that they last for many years. They add beauty to your home's décor. The recipient will be happy to receive such gifts.
Some Tips to Maintain Wooden Gift Items
You may have to wipe the wooden gift items regularly to prevent dust accumulation. It is a great idea to polish wood items at regular intervals. This will ensure that the original shine and beauty of the wooden frame is maintained. The best part about wooden gift items is that they blend easily with the décor of modern as well as traditional homes.
So, start exploring the whole range of customized gifts online. Pick the right gift to add beauty to any occasion and make it special.
For more valuable information visit this website