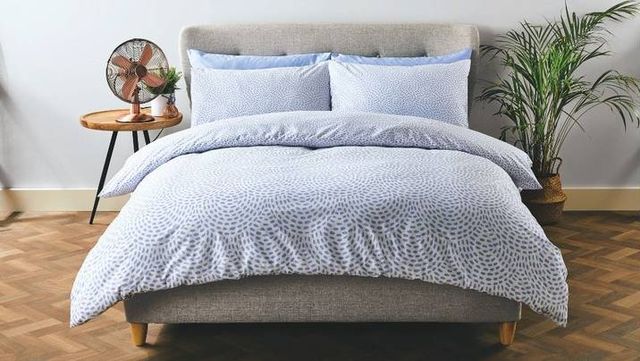 We spend a third of our lives sleeping, so the bed we crawl into at night should be the epitome of relaxation. A beautifully designed bed frame and high-quality mattress are excellent starting points. But nothing is quite as cosy and luxurious as the ideal bedding that complements it. Bedsheets and pillowcases are available in countless styles nowadays, and it's not always easy making the right decision.
In this short guide, we'll help you find the perfect bedding.
How does Bedding Impact Your Sleep?
Choosing the right bedding isn't only a matter of aesthetics. When you buy bedsheets that aren't suited to you, it can affect your sleep quality and leave you tired in the morning.
For example, if your bedding is too coarse, it can irritate your skin. Harsh synthetic materials impact any existing skin conditions as well. Also, some bedding will retain too much heat and make sleeping uncomfortable.
On the other hand, the wrong bedding won't protect you from the cold sufficiently. Finally, if you don't like how your bedding looks, it will not be as inviting as it should be.
Factors to Consider When Buying Bedding
Now that we know how vital bedding is, here are a few tips to help you find exactly what you and your bed need.
Fabric
Naturally, the bedding fabric comes first. While silk and satin sheets have many benefits, they're also much more expensive and more difficult to maintain.
In terms of materials, your choices typically come down to cotton, linen, or a mixture of the two. If you're more of a fan of cotton, we'd recommend 100% natural cotton, preferably organic. It's much softer than any synthetic material, not to mention more breathable.
It's also durable and easy to maintain as it can be washed at high temperatures. Linen is also a great option, and it's a more durable natural fabric. Plus, it's anti-static and great for people struggling with allergies.
Thread Count
When it comes to bedding, some may wonder about the thread count. The term represents the number of threads woven in a single square inch of fabric, typically cotton.
Advanced manufacturing techniques have provided easy access to high thread counts, which is responsible for that luxurious feel. However, a lot of that is marketing, and you can find affordable, soft-to-the-touch bedding in the range of 200-500 thread count.
Bedding Style
If you're someone who loves to accessorise, plain bedding is probably the top choice. You can get the primary colour and layer colours and patterns with throws and cushions.
However, if you're more in the mood for contrasts, printed bedding is a popular choice. You can go with more organic shapes or lean towards a geometric pattern.
Finally, you can opt for various types of fastening details for a little bit of extra flair, like buttons or poppers. These additions might look great, but keep in mind that it will take you longer to change the sheets.
Colour Scheme
The colour of your bedding will set the tone for the whole bedroom. This is where you can get all creative and experiment a little.
Your bedroom walls and the rest of the furniture may impact your chosen bedding colour. If a lot is going on in the room decoration-wise, perhaps warm colours or plain white bedding is the right choice.
However, bedding with a blue colour scheme can represent serenity, especially when it's linen. If blue doesn't work, then yellow or coral can perk up the room and make it look crisp and clean.
Size
Even though UK bedding sizes are standardised, they don't consider the mattress depth. Hence, you should always measure your mattress before you buy new bedding.
Also, you should consider that both cotton and linen will shrink after the first wash. For a cosier feel, sizing up might be a better option if you have a mattress topper too.
Enjoying Peaceful Slumber in Beautiful Bedding
Whether it's for your bedroom or the children's room, choosing new bedding can be a fun and exciting challenge.
The material and colour are probably the two most important factors to keep in mind. But getting the size right is crucial too.
At CurtainsCurtainsCurtains, you'll find all standard bedding sizes in gorgeous colours and patterns. Choose the perfect duvet cover, pillowcase, and sheets and enjoy a peaceful and cosy sleep.
For more visit the article on this website.