How to Be Vegan on a Budget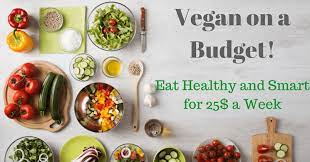 If you're thinking about going vegan, but don't have a lot of mono spend on vegan food, click here. This is how to be vegan on a budget.
Becoming a vegan has a lot of benefits and no doubt we would all love to try this healthy lifestyle. The only thing that stops us is how "expensive" it supposedly is. We see these fancy vegan meats and cheeses at the market and our wallets hurt just by looking at the prices.
Luckily, you can still be a vegan without having to purchase those expensive vegan meats. How? Keep on reading to learn everything there is on being a vegan on a budget.
Vegan on a Budget: When Shopping
Don't just reach over for the first thing you see. Take a look at the different brands and compare the amount of product that comes with what you want to purchase. You don't want to end up paying more for less.
Keep an open mind when it comes to frozen foods. People think that freezing fruits or vegetables makes them lose their nutrients, but that's just a myth and definitely not true. Choosing frozen over fresh produce can help you save money.
Also, don't get carried away thinking that something is better just because it comes from a specific kind of brand. While there are some good brands out there, don't cross out generic store brands. They always offer much cheaper products which are equally as good.
Click Here: quickbooks online login
Stocking up is also a great way to save money. Take advantage of any sales that are going on or head over to the bulk aisle. This is especially useful when it comes to flours, legumes, or seeds.
Prices are not the only thing you should compare. Some things are sold cheaper in other markets. Visit a few in your area and try jot down the prices for the things you want to buy and compare them with the prices you find in the next store you visit.
Vegan on a Budget: Preparing Your Own Meals
While eating out is always fun, it usually is an expensive choice. So, the more you stick to homemade meals, the better. This does require preparation so try to plan ahead of time your recipes.
Also, stick to recipes that only require basic ingredients. Like we mentioned before, as nice it is to have those fun vegan replacements in your diet, they are not necessary. There are still many different kinds of dishes you can make without them.
If you do want a break from preparing your own meals and decide to eat out, make sure to look up ahead of time that the restaurant you're going to has vegan choices. If it's a vegan restaurant, then even better.
Go for It!
The key to being a vegan on a budget is keeping an open mind. You can give your body all the sufficient nutrients it needs without powders and supplements and just by using the basics. Most of all, have fun with it. If you overwhelm yourself in the early stages of veganism, chances are you'll give up.
For more great tips on eating right while on a budget, keep exploring our website.