How to Buy Hair Vitamins Safely Online for Beginners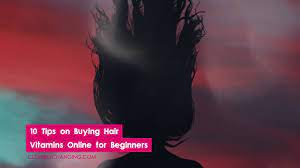 If you are looking for vitamins that can improve your hair's health, online stores can help. Here is how to buy hair vitamins safely online for beginners.
Have you ever admired someone's perfect tresses, wondering how they got such smooth, silky hair?
You may think it's a combination of genetics and high-end styling products, but there's another way of getting the gorgeous locks you desperately want. For starters, there are specialty hair vitamin websites you can visit that allow you to buy hair vitamins.
But what kinds of hair vitamin websites should you visit, and how do you know which products are the best?
For a complete beginner's guide to purchasing hair vitamins through online stores, keep reading, and you'll have the hair of your dreams in no time.
What to Look for When You Buy Hair Vitamins
If you want to notice stronger hair in a short amount of time, then the internet is a wealth of information. But with so many products on the market, how do you know which one to choose?
As you start shopping, begin by reading labels on products. Make sure you're not allergic to any of the ingredients and that they are safe for consumption, especially if you are pregnant or breastfeeding. Also, check to make sure there are no drug interactions if you are taking any other medications.
Look for vitamins that contain key ingredients for optimal hair health. These include protein, vitamin B12, zinc, iron, magnesium, vitamin A, and vitamin D. You can also get these vitamins through different foods, but vitamins provide you an additional boost when taken correctly.
Understand Hair Vitamin Ingredients
Knowing what vitamins help to grow thicker, stronger hair isn't always enough. It's wise to understand how each vitamin can help you so you can make the most informed decision possible.
Iron helps grow hair by improving circulation and pumping oxygen to the root of your hair. The result is longer hair in less time.
If your hair is dry, zinc can help moisturize your hair follicles and help your hair to grow. Since zinc deficiencies may result in a loss of hair, supplements can help prevent or reverse this.
Vitamin D is another popular choice for hair vitamins because it works to invigorate hair follicles, old and new, helping your hair to grow.
Read Reviews
Once you start shopping for hair vitamins, be sure to read online customer reviews. This will give you a better idea of how well these vitamins worked for other people and help you with choosing a specific brand.
If you find a brand that has excellent reviews and you're comfortable with the hair vitamin ingredients, consult with your doctor prior to taking them to ensure they're best for you.
Get Ready for Healthier Hair
There are countless reasons for wanting strong, healthy hair. Aside from being aesthetically pleasing, healthy hair can represent a body receiving proper vitamins and nutrients.
To achieve luscious locks, be sure to buy hair vitamins from a trusted vitamin shop. Not only will you be improving hair health but you'll boost your confidence and feel better overall.
For more information on health and beauty products, be sure to check out our other blogs. We've got articles covering all your personal care needs.