What should you know about Big Data?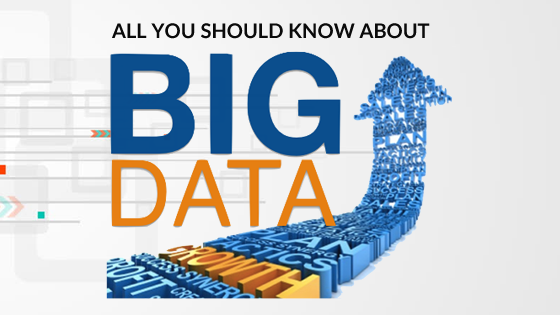 This article will surely provide the answers you are searching for. First of all, you must be aware of the term "Big Data". It is a large amount of data being produced on a daily basis, either structured or unstructured. Big data signifies the immense and varied sets of data that multiply at rising rates. It encircles the amount of data, the speed at which it is produced and collected, and the variety of the data points being covered.
There are three different types of formats for big data. They are:
Structured: It is the arranged data format with a fixed schema like RDBMS.
Unstructured: It is the non-arranged data with an unfamiliar schema like audio and video files.
Semi-Structured: It is partially arranged data that does not have a fixed format like XML and JSON.
How does Big Data evolve?
The idea of big data gained thrust in the early 2000s when Doug Laney, an industry analyst, hinged the now-mainstream description of big data as the three V's:
Volume: The data collected in the organizations come from varied sources like the organization's transactions, IoT devices, social media, videos, industrial equipment, and many more.
Velocity: With the growth in technology like devices supporting the Internet of Things, data flows into organizations at an extraordinary speed and needs to be controlled in a regular manner.
Variety: Data streams in varied formats from structured (such as numeric data in DBMS) to unstructured text files.
What advantages does processing Big Data provide?
There can be a wide range of benefits to processing big data. Some of them are:
The organizations can unload the rarely retrieved data.
You can always use it to read and analyze the customer's feedback.
It can be beneficial for organizations to make intelligent and strategic business decisions.
The analysis of big data helps to find out what data must be transferred to the data warehouse.
What is the importance of Big Data?
Big data does not play an important part just in collecting the enormous amount of data, but in utilizing that data to make strategic decisions. Each organization has its own way of utilizing big data, the main thing is all about how efficiently one can use it. Big data has the following importance:
Cost-Effective: The tools like Hadoop can save you a lot of money by storing a large amount of data being produced and identifying the most efficient way for business.
Reduced-Time: The combination of high-speeded tools like Hadoop and in-memory analytics will help in identifying the new data sources so that the organizations can analyze data instantly and make quick decisions based on the learnings.
Online reliability: The tools of Big Data perform some thoughtful analysis. Hence, it becomes easier for you to identify the views of others about your organization. You can also use the tools for big data for detecting and enhancing the organization's reputation online.
Acknowledge the market situation: To get the acknowledgment of the current market situation, you need to analyze big data.
Boost customer assets and holdings: The main asset for any organization is its customers. Big data analytics can be used to discover a pattern related to various customer choices and trends.
Drive innovations and enhance development: One other major benefit of big data is the facility to help organizations invent and Another huge advantage of big data is the ability to help companies innovate and redesign their products.
Decode advertisers' issues and provide marketing awareness: The analysis of big data can offer an enhancement of all organizational operations. It includes the capability to meet customers' expectations, modify the organization's product line, and assure that the advertising campaigns are influential.
What tools are used for Big Data analytics?
There are several real-time tools for analyzing big data. They are:
Storm: Owned by Twitter and a real-time distributed processing system.
Cloudera: Offers the Cloudera Enterprise RTQ tools and these tools provide synchronous and interactive analytical queries of the data in HBase or HDFS.
Gridgrain: An enterprise open source grid computing developed for Java; Supported in Hadoop DFS.
SpaceCurve: Technology developed by SpaceCurve can be used to detect the underlying patterns in multidimensional geodata.
The amount of data being produced nowadays needs to be processed. Each organization has an employee to look for it and based on it, perform some analysis for the organization's benefit. These employees are Data Analysts. A Data Analyst works as a wall in the organization to process its data and breaks it into such a manner that's understandable to stakeholders. After processing the data, the Data Analyst provides a strategy for business decisions. Not only people with master's degrees in science, computer modeling, analytics, or mathematics but a person with an undergraduate degree can also appear for this job.
One can also opt for the CIW Data Analyst Specialist (1D0-622) exam to stand out from the rest of the competition. We, at uCertify, offer you a course that is completely based on the Data Analyst certification exam. The course offers you test preps, video lessons, labs, and much more. The course not only covers the basic but advanced concepts of Data analysis as well. It is entirely based on the exam objectives of the CIW Data Analyst Specialist (1D0-622) certification exam.
The course will validate your expertise in big data, data sources, analyzing and reporting data; specific tactics for working with cloud-based data, and many more. It covers the topics like introduction to Big Data, tools for capturing and analyzing data, working with Data Sources, and analyzing and reporting data. Do check our course!