3 Ways Tech Can Affect Your Mental Health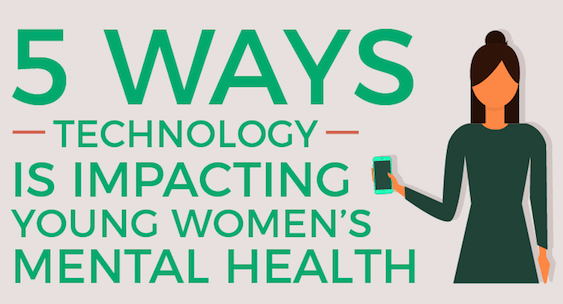 Technology often gets a bad rap when it comes to matters of mental health. But advancements in technology can open doors and make access to both care and conversations easier than ever. For patients who've been skipping out on managing their mental health, technology can be the gateway to feeling better. And there's no better time than now to tap into the abundance of online resources.
1. Access to Quality Care is Practically Unlimited
The time commitment required to conduct a simple doctor's visit far surpasses the scheduled appointment time. Add in travel, registration, and sitting in the waiting room, and a simple 20-minute checkup has burnt through half a day. 
This all-too-familiar scenario is one of the major reasons people fail to follow through with healthcare visits. And when you add mental health treatment to your appointment docket, the time commitment can quickly drain your sick days. The time crunch of appointments and medication pickups makes getting care tempting to skip.
With the wide availability of tech-fueled healthcare services, where you live or work doesn't matter. Telehealth and online consultations eliminate the commute and the time cushion you'd traditionally built into your appointments. Now, all you have to do is block your calendar, secure a solid WiFi connection, and sign in. 
Sometimes, patients find that virtual care decreases the stress often associated with walking into a clinic. Removing the foreign environment of an office with the comfortable confines of home can positively impact the entire experience. Plus, easily-accessible post-visit summaries help confirm guidance and goals for both patients and providers.
2. The Process of Getting Medications and Therapy is Hassle-Free
A common theme quickly emerges when considering healthcare — time. The time it takes to not only seek care but to execute care instructions makes it hard to fit in. Plus, if one's mental health concerns make everyday tasks more difficult, seeking care is one more thing to overcome. 
Thankfully, online providers of both therapy and medication are widely available with and without a prescription or pre-authorization. Patients can answer a questionnaire to determine what type of treatment would best address their concerns. Then, online providers collaborate with insurance to identify the most cost-efficient way of delivering medication.
Medications can often be swiftly delivered through the mail securely and discreetly. This process removes the need for multiple errands and remembering tedious refill requests each month. Generally available in 90-day refills, patients can focus on their overall care plan and less on medication management. 
Many online providers also offer a robust knowledge base or articles that review the benefits and considerations of each. This can lead to more engaged patients who are invested in their total treatment plan. A better understanding of how medications work, when they will begin to take effect, and the risks involved may improve outcomes. Greater understanding is never a bad thing, especially when it comes to a dynamic and evolving matter like mental health.
3. Online Narratives are Shifting to Transparent Conversations of Support
Social media is well known for its correlation with cyberbullying and harassment, but the tides are shifting. While the pandemic forced people home for the first time in their lifetimes, the human need to connect exploded. Individuals seeking camaraderie and companionship looked online for digital communities to fill the physical void. 
Mental health issues were exacerbated in times of isolation, stress, and uncertainty. And people soon looked to one another for support like never before. While the devastating impacts of the pandemic continued, more individuals found comfort online. And with the rising popularity of discovery-based social media apps like Tik Tok, more people found online communities they aligned with. 
Focusing less on follower count and more on shared interest, these raw and authentic online conversations encouraged others to open up. Soon, many people were seeing more mental health topics on their feeds than in fashion or pop culture. What once may have been a private journey or underlying concern became more acceptable to discuss in a public forum. 
Aside from creating new connections and feeling less alone with their mental health, many were encouraged to seek treatment. While a peer's individual experience cannot replace the care of a qualified professional, the inspiration to seek care is imperative. Without an openness about a very personal and sensitive subject, many would have continued to suffer in silence. All social media is not without instances of bullying, but there has been a shifted tone toward positivity and encouragement.
Leverage Technology to Improve Your Total Wellbeing
Mental health has often been overlooked as a component of overall well-being, but attitudes are changing. Employers are expanding both traditional medical coverage and employee assistance programs to include more therapy visits. Additionally, workplace conversations about stress, mental health, and managing work-life balance are happening outside of the break room. 
Increasingly, management teams are being encouraged to make employees aware of these expanded benefits and how employees can access them. While there's work to do in reducing the hustle culture, greater empathy is appearing in the workplace. Increased stress and unmanaged mental health conditions can worsen with time, frequently taking away quality of life and productivity. But with more mental health treatments available online, patients can easily access care and begin the path to total well-being. 
For more visit the article on this website.