How to Convert PPT to HTML5 Using SlideHTML5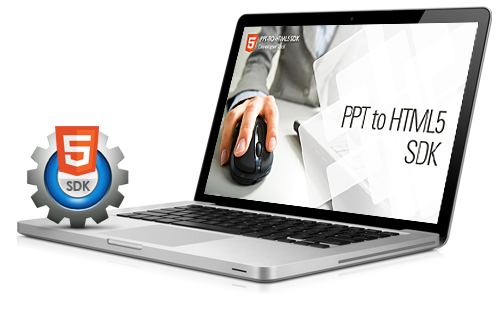 Using this free online presentation builder, you can easily convert PPT to HTML5 presentations in a few easy clicks. The published HTML5 presentation would be hosted for free on the site, and users will be able to distribute it to whomever they want through email and social media.
Features:
Conveniently convert slides into HTML5 with just one click.
When users create slides online, each converted file provides a URL to share their creations with others. There will be no more issues with the size of email attachments or the display compatibility of websites.
The era in which presentations were being passive has come to an end. Anyone who wants to create a presentation that looks professional or flows smoothly should look at this recently founded online presentation builder, which allows users to convert PPT to HTML5 in seconds.
For many years, trying to convert PPT to HTML5 was a time-consuming procedure. The available software will have to be installed first on devices and was often behind a paywall—but the process no longer needs to be time-consuming. SlideHTML5 is a free online service that helps convert PPT to HTML5 utilizing the "one-click" technology. With support for animations, images, transitions, and other features, it enables users to create professional dynamic presentations in HTML5 at lightning speed and with the highest level of accuracy possible.
The transitions, as well as animation effects used in a presentation, are the most compelling aspects of the presentation. Thanks to SlideHTML5, users no longer have to be concerned about losing these effects when you convert PPT to HTML5 using the online presentation tool. Fonts, in addition to motion and transitions, may assist in improving the effectiveness of presentations. As a result, SlideHTML5 enables users to convert PPT to HTML5 while maintaining the fonts, animations, and transitions that were included in the original presentation.
How to Convert PPT to HTML:
Go to https://slidehtml5.com/ and upload your presentation file by clicking the option that appeared in front of you.
This will lead to the next step where you need to upload your file, add a title, description and select the category to which that slide belongs to.
Click 'finish' and you are done! This is all it takes to finish it. after your file is ready, a URL is generated which you can share with your circle or on your social media.
In addition, they are pleased to provide their clients with an innovative solution that is filled with important features and converts PPT to HTML5 flawlessly. You may now share these online presentations with the rest of the world by sending out a link, scanning a QR code, or embedding the presentation on your website.
Once a user has successfully used the platform to convert PPT to HTML5, he or she may post their work on it. This cloud storage service for HTML5 slide presentations is provided by SlideHTML5.
More information on this interactive presentation creator may be found at the SlideHTML5 website.
For more visit the article on this website.