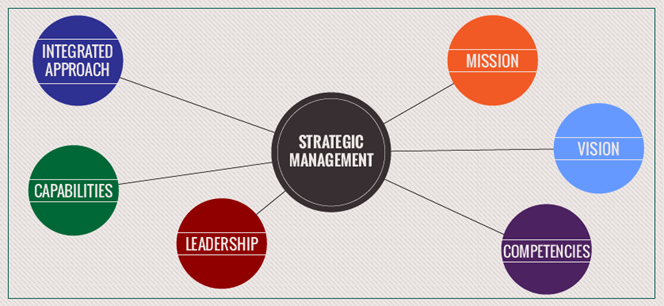 Curious to know what techniques are used during strategic management? Here is a brief intro.
The world of business is truly fascinating. Businesses provide a livelihood to the majority of the human race. Even farmers also depend on businesses to sell their products and get inputs for farming.
However, to most of us, the world of business remains a mystery. In this series of blogs, we try to unravel the mysteries of the business.
In this blog, we will learn about 'Techniques of Strategic Management.'
Name

Description

The Boston matrix

The Boston matrix is one of the most widely used strategic analysis techniques. It divides business activities into four categories:

Stars – activities that have high market share and high market growth

Cash cows – activities that have low market growth, but high market share

Wildcats – activities that have high market growth, but low market share

Dead dogs – activities that have low market share and low market growth.

McKinsey 7-S framework

This technique analyzes a firm's organizational design by looking at 7 key internal elements: strategy, structure, systems, shared values, style, staff, and skills, in order to identify if they are effectively aligned and allow the organization to achieve its objectives

PESTLE Analysis

The pestle analysis provides a framework for investigating and analyzing the external environment of an organization. It gives an overview of the whole environment from different angles. Companies use this tool when they are planning to launch a new project/product/service etc. or when they want to track the environment, they're operating in.

PESTLE stands for Political, Economic, Social, Technological, Legal, and Environmental

Porter's Five Forces

Porter's Five Forces is a simple but powerful tool for understanding the competitiveness of your business environment, and for identifying your strategy's potential profitability. These are

Bargaining power of suppliers

Bargaining power of customers

The threat of new competitors

Threat of substitutes

The threat of competitive rivalry

Balanced scorecard

A strategic planning and management tool to measure organizational performance beyond traditional financial measures aligned to the organization's vision and strategy. Helps in monitoring progress against objectives and adapting strategy as needed and enables balanced planning and thinking.

Business capability analysis

Capability maps provide a graphical view of capabilities. Capabilities describe the ability of an enterprise to act on or transform something that helps achieve a business goal or objective. Capabilities describe the outcome of performance or transformation, not how it is performed. It helps to align business initiatives across multiple units of the organization

Business case

Formally or informally, justify investments based on estimated value compared to cost. Spend time and resources on a business case proportional to the size and importance of its potential value. Business cases do not provide intricate details. 

Business model canvas

Comprises 9 building blocks describing how an organization intends to deliver value.




As a diagnostic tool, use elements of the canvas as a lens into the current state of business, especially with respect to relative amounts of energy, time, and resources currently invested in various areas. This is a widely used and effective framework to understand and optimize business models.

Decision analysis

Supports decision-making in complex, difficult, or uncertain situations. Examines and models possible consequences of different decisions.  Helps to determine the expected value of alternative scenarios, assess the importance placed on different alternatives, assess options based on objective criteria rather than emotions, and construct suitable metrics to compare financial and non-financial outcomes.

Decision modeling

Show how repeatable business decisions are made using data and knowledge. Decision tables help in managing large numbers of parameters and facilitate shared understanding.

Financial analysis

Explore financial aspects (benefits and costs) of an investment. Helps in objective (quantitative) comparison of investments. Here, assumptions and estimates are clearly stated and uncertainty is reduced by identifying and analyzing influencing factors.

Risk analysis

Identify, analyze and evaluate uncertainties that could negatively affect value, develop and manage the way of dealing with risks. It can be applied at multiple levels – strategic, tactical, or operational.

SWOT analysis

SWOT is an acronym for Strengths, Weaknesses, Opportunities, and Threats. A framework for strategic planning, opportunity analysis, competitive analysis, business, and product development. It helps to quickly analyze various aspects of the current state, and environment prior to identifying potential solution options.
About Adaptive US
Adaptive US is the world's #1 leading IIBA EEP. It is the only training organization that provides IIBA certification training with Success Guarantee. Adaptive is a World Leader in IIBA CBAP training, IIBA ECBA training, IIBA CCBA training, , IIBA CBDA training, IIBA CCA training and IIBA AAC training.
Adaptive is a global leader in business analysis certification training with 800+ internationally certified professionals. It also conducts BA skill training on Jira, BPM, MS Visio, Balsamiq, UML, Interview Preparation as well as Resume Preparation.
Adaptive has published the following books on business analysis-
 The Handbook of Business,

 1000 BA Interview Questions,

 Business Consulting 101,

 Practical Requirements Engineering,

 Agile Business Analysis,

 Big Book Of Corporate Jargons,

 Giant Book of BA Techniques,

 Stories for Trainers,

 Practice BA Techniques with Lucidchart,

 Mastering CPRE-FL,

 CPRE-FL Question Bank,

 A Beginner's Guide to IT Business Analysis.