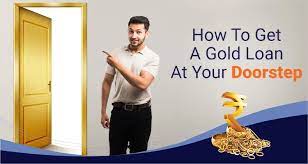 Gold loan, whether from Canara bank gold loan, Bank of Baroda, or HDFC bank, is a secured credit option that you can avail of by pledging gold jewelry as security or collateral with lenders like NBFCs or banks. The lender, in turn, endows you with a loan proceeding depending on your gold's market value. After you are done repaying your loan proceeds and interest by your selected loan repayment tenure, your pledged gold is returned to you.
Borrowing funds against gold deposits is a common Indian practice. Lenders process the funds against the gold security provided to them. The received funds can be utilized for your medical expenses, business expenses, and various other financial requirements without the requirement to depend on anyone to meet your needs.
While opting for a gold loan is relatively a simple way to obtain immediate funds, you might have various doubts regarding this. So, here are some of the common questions and their answers to help you better.
What's a gold loan?
Gold loan, as mentioned above, is a kind of secured credit option that you can avail of by pledging gold jewelry as collateral or security with the lender, i.e., NBFC or bank. The lender, in turn, will endow you with a loan amount depending on the prevailing market value of the gold. And post your finish repaying the gold loan proceeds along with their interest by the end of the selected tenure, your pledged gold is returned to you.
Also, note that as a gold loan is a secured credit option, the interest rate on a gold loan lower than the unsecured credit option. So, all lenders may it be Canara bank gold loan, Bank of Baroda, Axis bank, HDFC bank, etc. have a lower rate of interest on gold loans. For instance, the current Canara bank gold loan interest rate starts from 7.65 percent per annum onwards, and HDFC bank gold loan rate starts from 7.60 percent per annum onwards.
What kind of jewelry can be pledged?
You can pledge gold jewelry, ornaments, etc. Note that the purity of the gold will decide how much funds must be provided to you. Remember that banks do not accept coins, gold bars, or bullion as security for gold loans.
How can you get a gold loan?
Once you take your gold to the lender, they will examine its purity and enlighten you about the proceeds of the loan that you can take up on the same. According to the Reserve Bank of India (RBI) guidelines, the amount can be up to 75 percent of the gold value. You must pay the processing charges, which are levied according to the policy of the lender.
Is your gold safe with a lender?
With the unlicensed NBFC or bank, you could be running at risk of your gold being swapped or misplaced. This is the reason it is recommended to place the application for the gold loan from a lender you can rely on. Now that lender can be Canara bank gold or HDFC bank or Bank of Baroda or any other reliable bank as per your preference. And as it is secured in the vault, you do not require to fret regarding the gold's security. Thus, with the assured safety of the gold valuable possession, you can stay at mental peace.
What are the important documents you require?
Along with the passport-sized photo, you require submitting any other identity proof such as a driver's license, passport, Aadhaar card, etc., and your address proof like a copy of your phone bills or electricity bills, etc. In case you do not hold a PAN card, you can consider submitting form 60.
Who can place the application for a gold loan?
Anyone who is the age of 18 years and more can pledge gold to apply for the loan.
How much time is consumed to process the gold loan?
With all the required documents in place, a trustworthy lender can process your loan proceeds on the same day of placing the gold loan application.
What are the options available for gold loan repayment?
Lenders offer various simple and convenient options to repay your gold loan based on your convenience and preference. These include –
∙       Bullet repayment – There is zero EMI involved. You can pay both the interest and principal components together by the end of the repayment tenure.
∙       Upfront interest – Pay the whole interest at the start of the repayment tenure and the principal component towards the end.
∙       Regular EMIs – Repayment must be done in the form of equated monthly installments or EMIs.
∙       Overdraft option – This is an option wherein you can pay your interest just on the used amount.
What's a loan repayment tenure?
Gold loan repayment tenure generally is between 6 months and 2 years based on the lender. For instance, tenure for HDFC gold loans ranges between 6 months and 24 months. Few lenders even provide an extension on repayment tenure just by renewing your gold loan. However, this can incur higher interest, which infers a higher loan payout.
What happens in case you do not make repayment of your gold loan?
Before you avail of a gold loan, it is crucial for you to understand your potential to repay. The lender holds the complete right to auction your gold for recovering the rest of the repayment loan proceeds in the case of any default.
What's the gold loan rate of interest?
The interest rate of gold loans is lower as compared to the interest provided by other credit options like loans against a credit card, personal loans, etc. The rate for a gold loan usually starts from around 7.60 percent p.a. Canara's gold loan interest rate is one of the lowest rates available in the market.
What should you opt for – NBFC or bank? 
Today, you are allowed to avail of a gold loan from banks and NBFCs, both across India. While both provide an LTV or loan-to-value ratio of 75 percent. However, ensure to avail of a gold loan from a trusted financial institution as you will be pledging your gold as security or collateral to avail of the loan proceeds. In case, the financial institution that you opt for is unreliable, then you may end up losing your pledged gold security. So, ensure to be careful.
For more the visit article on this website.