Are Three Wheel Mobility Scooters Stable?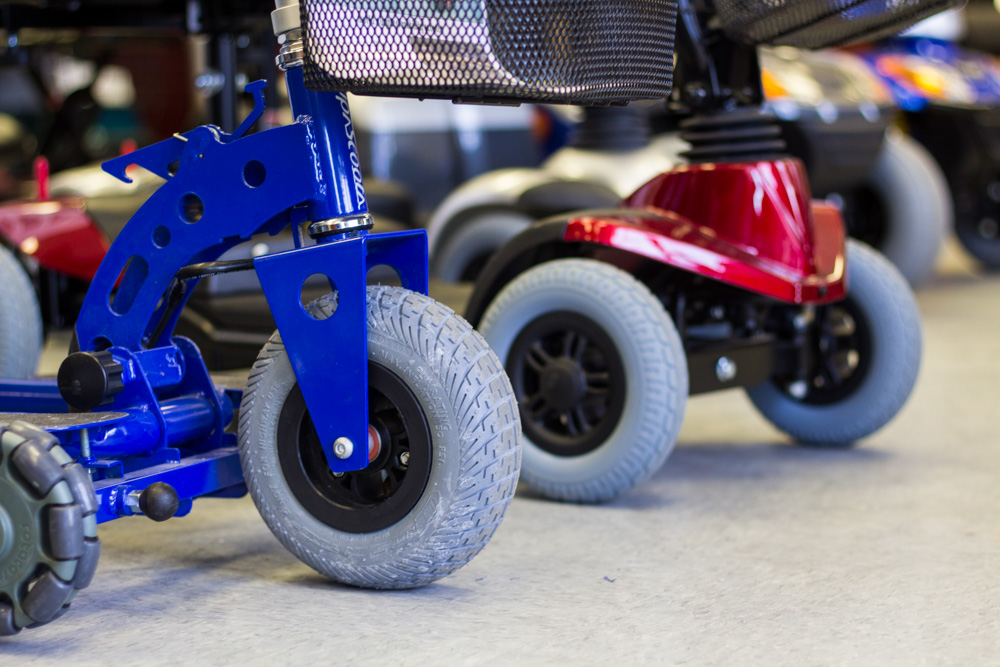 One of the biggest concerns for folks shopping for a mobility scooter is safety. Mobility scooters are generally used for those who struggle with independence, balance, and walking safely. For these reasons, one wants to be assured that the scooter you're using is safe and won't tip over. 
While four-wheeled scooters offer maximum stability, a three-wheel mobility scooter can be just as stable and safe as a four-wheeler. Design helps greatly with this, and generally, a wider rear wheel base can go a long way towards improving stability and ensuring rider safety. 
The safest three-wheel mobility scooters will have the widest rear wheel configuration, and be made of durable and heavier materials, too. The three-wheeled design means that you won't have to balance as you would on a bike, and you'll be able to save a bit on the overall weight of the scooter vs. a four-wheel design. While for some riders, a heavy ride may not be desirable, if you're looking for added stability, a bit of extra weight may help contribute to a low likelihood of tipping over. The lighter a ride is, the easier it may be to tip. 
What are some of the most stable, balance-friendly, and best three-wheel mobility scooters? Let's check some out. 
MotoTec 800
MotoTec is known for its simple yet well-made little mobility scooters. The MotoTec 800 features a sleek, compact design and a build that ensures greater stability and ease of use. Instead of a captain's chair, this model features a simple, bike seat-like perch and works well for short rides or riders who don't require as much back support. 
At $1,800, it's a less expensive ride that can still get you where you need to go. It has a solid metal frame, thick tires, and an upright design to maximize balance and save you space when storing the scooter. It's great for indoor spaces as well as outside events, and with a range of about 15 miles and a top speed of 22 miles per hour, the MotoTec 800 is a speedy, nimble, well-built ride that performs well in a variety of settings. 
Priority Transportation Truck
Nothing says "stable" like a pickup truck, and the Priority Transportation Truck may arguably be one of the tiniest, most unique electric trucks you can buy. 
It is still technically a mobility scooter and does have three wheels. Still, it also comes with a tough-built, very practical truck bed, a hydraulic ram that lifts the truck bed for easier unloading, and a super-solid metal chassis. This is a beautiful, unique machine, perfect for use around the farm, ranch, or for short-distance, casual moving jobs. It can get up to 20 miles on a single charge and carry up to 500 lbs of stuff or people. It gets up to 15 miles per hour in speed and is an undeniably stable, fun, unique item to own. It's practical, too, and can serve you well on trips to the hardware store, farm supply store, or grocery store, too. 
About the author:
Trevor Fenner is the founder and owner of Mobility Paradise, a one-stop shop for mobility scooters, electric scooters, electric wheelchairs, wheelchairs, oxygen concentrators, lift chairs, saunas, steam showers, massage tables, exercise equipment, electric bikes, massage chairs, and bathtubs. Years ago, Trevor's grandma had an accident that made her dependent on a wheelchair; this forced Trevor and his family to put her into an elderly care facility. Since then, Trevor would visit her to take a walk around the neighborhood. Mobility Paradise was created because Trevor couldn't find an online store that offers a wide selection of mobility equipment and educational resources. What started as a business focusing on mobility scooters grew to include all kinds of mobility products. You can shop for the most reliable mobility products at Mobility Paradise.
For more the visit article on this website.