The Difference between PR and Customer Relations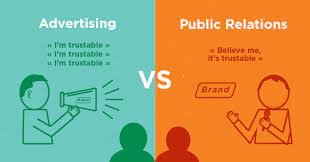 Public relations and customer service share quite a few similarities. After all, these positions are essentially the face of an organization and focus on upholding its interests and image. That said, there are quite a few differences between the two as well. Let us find out what they are.
The Main Distinction
While there are numerous differences between customer relations and PR, the main one is who a company representative is working with. Customer relations representatives, work with customers. On the other hand, PR specialists often deal with media personnel and various other organizations.
A Quick Look at Customer Service
The main duty of customer service representatives is to answer resolve complaints, offer suggestions and answer client inquiries. These representatives operate in various environments, depending on the nature of the organization they are in. Customer relations representatives work in call centers, offices, and in some cases, their homes.
Most industries these days require customer service representatives, which is why it is one of the biggest occupations in the United States.
A Quick Look at Public Relations
As mentioned earlier, PR specialists often work with members of the media. They are also proficient in writing press releases for announcing how clients aim to serve and help the community. Public relations specialists are also tasked with organizing events such as conventions and speaking engagements to ensure the organization remains in touch with the press and public.
In some organizations, PR specialists help clients with their speeches by preparing and rehearsing with them. You will also find some public relations experts conducting interviews. Government agencies, nonprofit organizations, and businesses all acquire the service of PR specialists.
Differences in Education and Training
According to the United States Bureau of Labor Statistics, people who aspire to be customer service representatives should have high school diplomas at the very least. Once you apply for this position, there is a high likelihood that your employer will provide you with on-the-job training. Some employers looking for customer relations experts require an associate's or bachelor's degree.
As far as public relations services go, employers often require a bachelor's degree in communications, journalism or public relations. Some organizations also provide internships for training applicants and easing them into the workforce.
Are There Any Differences in the Pay?
The average salary for PR specialists is around $51,000, with the top ten percent earning around $100,000 per year and the bottom ten percent earning lower than $30,000 per year. The working hours for customer relations representatives tend to vary greatly, with most people putting in around forty hours per week and earning an average of $14 per hour.
How do Public Relations Services Benefit Organizations
As mentioned earlier, companies often make use of public relations services for building mutually beneficial relationships with other organizations and the public. PR specialists draft detailed communication plans along with media and various other mediums to create a positive brand image.
To make it simple, public relations is essentially a strategic process to manage the spread of company-related news and info to the public. This helps companies create a favorable reputation. The main focus of the PR process is:
–        Determining which information could make the organization look good
–        How to draft the info
–        How to release the information
–        Finding the right channels to deliver the news or info
Making an organization look successful, relevant, important, and honest to the public increases a company's chances of gaining profits and impresses investors and partners. It is a major reason why more and more businesses allocate a massive chunk of their budget to PR services.
What are the Main Functions of PR?
Contrary to popular belief, public relations is vastly different from customer relations and advertising. PR agencies do not purchase ads or write stories for journalists and reporters. They also do not focus on paid promotion. Instead, the main job of PR representatives is to make sure they promote brands through editorial content in various channels like TV programs, blogs, websites, news channels, newspapers, magazines, and more.
Using free or earned media for the purposes of promotion has plenty of advantages as the info on such mediums is not bought. Plus, the fact that third parties validate the information means that the public does not view it with too much skepticism.
Here are some functions performed by public relations agencies and PR managers:
–        Interpreting, analyzing, and anticipating public opinion and the public attitude towards an organization.
–        Creating strategies that make use of earned or free media to influence the public
–        Finding ways to support every campaign of a brand
–        Creation and distribution of press releases
–        Writing speeches
–        Developing and executing media relations and public outreach events
–        Writing web content for external and internal websites
–        Forming a robust public relations strategy
–        Handling the brand's social media presence and responding to reviews on various platforms
–        Counseling the organization's employees with regards to the company's responsibilities, course of action, and policies to ensure smooth operations
–        Dealing with legislative and government agencies on the organization's behalf
–        Taking care of investor relations
Can Organizations Benefit from both PR and Customer Relations?
Since the two positions are vastly different, organizations can definitely benefit from PR and customer relations. This is particularly true for bigger companies as their bottom line is directly dependent on keeping customers happy and maintaining a positive image. If you look at most high-profile companies these days, you will notice that they make have customer relations representatives as well as PR personnel.
That said, it is important for companies to know the difference between the two and the roles they play. The differences discussed in this piece will help you understand what makes public relations and customer relations services different and how they can benefit organizations.
For More the visit article on this website.
Tags :
customer service and public relations pdf
do public relations make a lot of money
public relation media
public relations and customer relations
public relations salary
roles of public relations