What Is Sales Force and How Does It Manage Customer Relationships?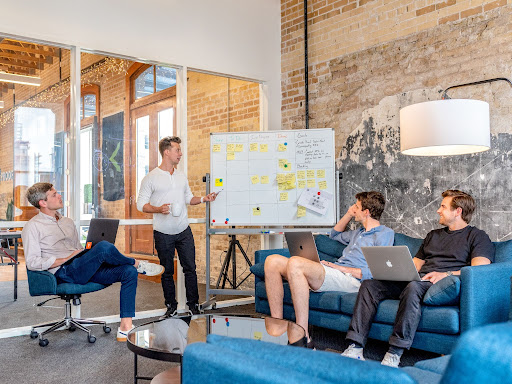 Do you know why Salesforce has earned a name in the CRM sector? Security and quality are the top priorities that differentiate it from its competitors.  This is one of the reasons why Salesforce maintains its dominance in the CRM Sector. Sometimes you might need to customize data according to your needs and requirements. Therefore, you require a flexible platform to choose from. And there comes Salesforce again! Salesforce is a platform that is adjustable enough for all your data collection requirements. When it comes to data organization, you have a lot of options to save your data in Salesforce forms. Creating Salesforce forms is very simple as it doesn't need any programming language to code with.
About Salesforce Company
Prior to Salesforce, Customer Relationship Management (CRM) was managed by the company's server. It's beyond our imagination that the companies that had their own CRM solutions spent a lot of money and time. According to our rough estimate, millions of dollars and years took to set up the CRM on their own servers. Also, it was very difficult to use. Therefore, it was needed to bring up a new solution that would save cost and time making it easy to utilize. There comes Salesforce! Salesforce came in the market with a revolutionary idea of building a cost-effective CRM software and making it accessible online. It began its journey with the small set up in San Francisco in 1999, with then aim to deliver good services to the world With the passage of time, it gained attraction and many companies started using CRM solutions provided by Salesforce. That's how it became the largest software company around the globe. 
What Is CRM?
The term CRM stands for Customer Relationship Management. What does CRM mean? CRM manages customer relationships. We will explain it with the help of an example. Let's imagine that if you are the customer and you have forgotten your login details of any software that you use. Then you would definitely call customer service to know your credentials. When you make a call on the helpline, the receiver can ask your name, Identity information, then he transfers your call to other departments, the other operator asks you the same thing, and the process continues. You become fed up with telling your name and identity information again and again. And lastly, you end up with no information. Ultimately, the company loses its customer. Look how complex it is! 
For this reason, every concerned department in Salesforce holds customer data and sets the responsibilities of every department. CRM is used to organize existing customers' data and potential customers' data. Potential customers are those who are not the company's customers but can be in the future. CRM saves the potential customer's data when he comes to inquire about something. CRM software sends offers by sending text messages to potential customers so that they can be their customers in the future. In this way, the Salesforce CRM builds relationships with customers. And the customer can get the data whenever he needs it. You can also customize your data according to your needs.  CRM software makes its existing customers aware of the services.
How Salesforce Is Unique?
Salesforce brought the idea of building CRM as cloud computing. It replaced the long-term installation process with cloud computing reducing cost and time. Using their services does not cost more than a $50 monthly subscription fee. This is the main distinguishing feature of Salesforce that companies can take advantage of their services without spending millions of dollars. 
Salesforce customers generally highlight its uniqueness for three major reasons:
Time-Saving: In comparison to the conventional CRM software that takes years to bring into play. However, Salesforce CRM takes less time usually only months or even weeks to deploy.

Simple To Use:  As everything is kept in a single place, Salesforce is easy to utilize. category. 

Effective – Due to its user-friendliness, it can be adjusted according to the customers' needs and requirements.
How Salesforce Facilitates Companies With Their Services?
Every developer wants to save time and money while developing apps. With Salesforce, you can develop apps from scratch.  You can utilize salesforce tools to develop apps rather than building your own tools and infrastructure. 

Salesforce is a cloud-based service, so companies can access it from everywhere in the world. 

If you own a rapidly evolving firm or a seasoned corporation that has been in operation for many years, your business is most likely changing as well. Salesforce is entirely adaptable to your business's expansion.

Salesforce interacts with third-party applications smoothly. If you wish to combine Salesforce with Gmail, you may do so, and you can even combine it with your accounting software. Interoperability with other CRMs, on the other hand, is difficult.

Salesforce is reasonably priced, especially when you consider the breadth of its features. Salesforce may be used by startups and small businesses.

You only need a device connected to the internet to utilize it as it is compatible with all internet-connected devices. Many industries or organizations that leverage Salesforce software can use Salesforce forms for many reasons such as higher education, financial services, healthcare, etc. 

Salesforce Customer 360 connects your marketing, sales, commerce, support, and IT employees from anywhere. Customer 360 powers the complete portfolio of linked apps. With Customer 360, you can direct your workers' attention on what is most essential right now: stabilizing your firm, reopening, and resuming excellent customer service.

Using customized marketing, you may attract more consumers. Gain more consumers by learning about their wants and worries. Provide your consumers with the outstanding shopping experiences they expect. Build bespoke apps to automate time-consuming chores.

Salesforce forms are used by many departments such as healthcare, government, finance sector, or any other industry that leverages Salesforce products. These Salesforce forms are very useful for storing data. 
How Does Salesforce Help People?
Salesforce makes use of advanced technology that helps people for creating better jobs, organizations, and teams. When you buy a Salesforce subscription, you not only access CRM but also connect to the community of more than 10 million developers and community shapers that they call Trailblazers. With free online learning from Trailhead, people become experts in their careers. 
As Salesforce has connected people with the internet, people can access its services from all over the world and their data is also protected with advanced security technologies embedded in the Salesforce platform. With Salesforce software, you don't have to burn the midnight oil to use its cloud-based features, services, and apps. It is flexible in size, so you should not be worried about storage capacity.  
For more visit the article on this website.