What to Look for in an Affordable Laser Cutter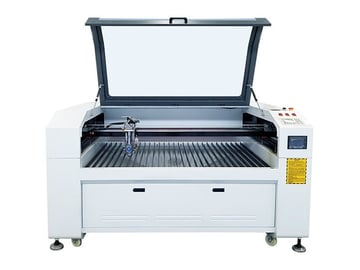 Introduction to CO2 Laser Cutter
A CO2 laser cutter is an essential and handy tool that every workshop should have. The tool offers you the flexibility and convenience to leave your mark on almost anything. You name it; wood, leather, acrylic, glass, stone, marble. You can use laser cutters to mark, engrave, and cut a variety of designs such as logos, portraits, serial numbers, QR codes, and more.
However, with so many different models on the market, it can be challenging to find an affordable laser cutter that works well. Fortunately, that is where we can help you. We will help you choose a top-notch laser cutter at a reasonable price.
Benefits of Choosing an Affordable Laser Cutter
Laser cutters have made several important tasks safer, easier, and more efficient. Generally, laser cutters are expensive machines, especially the high-end commercial models; however, affordable models have been more accessible overtime for regular households and fresh new businesses.
As a result, acquiring the laser cutter machine that will fulfill all your needs and requirements may not be as expensive as you may think. Note that in the past, only large companies could afford laser cutting machines, but with new technology, laser cutters have become available at reasonable prices
Did you know that laser cutting is better than conventional cutting using punches, dies, and other similar tools? For instance, you can complete the act of cutting with precision and speed by using an affordable laser cutter with less waste, which generates more savings.
Some benefits of an affordable laser cutter are:
More Bang for your Buck
Running affordable operations with less waste are important advantages in a competitive world where everyone is looking to work smarter and more efficiently. The objective is to drive up production and slash costs. Did you know that a laser cutting machine is more powerful than other cutting equipment? With powerful and affordable laser machines such as OMTech's Mid-Range and High Power CO2 models, you can perform your cutting and engraving work and save space. Laser cutting technology can save you a lot of money, especially if you need a mass quantity of products.
Finally, most manufacturers across the world are looking to work smarter and use considerably less energy, and natural resources, both as a cost-saving tool and an environmentally friendly one, an affordable laser cutter will help achieve this goal.
Less Set-up Time
You will be happy to know that many affordable laser cutters offer a toolless option. This means that you can save money on tools and cut blanks with almost no set-up time, unlike most alternative methods.
Also, as a laser cutter doesn't use any type of tooling, you don't have to modify it for your project. It does not only simplify the process but also speeds it up and saves you money.
Precision
When it comes to precision, laser cutters are unmatched. This is because laser cutting leverages an extremely small and powerful laser to deliver a focused light beam to the material that it is cutting with tremendous precision. This means less waste and more savings for your business.
So, accuracy and precision are the primary advantages of affordable laser cutters compared to most other cutting methods, such as thermal cutting.
In most cases, the powerful laser can melt and evaporate materials, with unparalleled accuracy, with usual tolerances of 0.003 to 0.006 mm.
Clean Results
Laser cutters can make very precise lines with smooth and clean-cut edges without any burr (rough edges), and there is no dust formation. This is great as it will limit your clean-up time while reducing workplace contamination and waste.
Also, keep in mind that as the beams are tightly focused, you will not have to worry about any internal flaws due to heat exposure.
Flexibility and Versatility
Did you know that no job is too complex or challenging for an affordable laser cutter? You will be happy to know that you can use a high-powered laser cutter to work on extremely narrow sections of material. It causes minimal warping and distortion to the area you are cutting.
You can use the same setup for cutting various different shapes on a material with the same thickness. Also, because of the tool's versatility, intricate cuts don't pose any problems. This means that you don't require multiple machines for different jobs, which saves money.
And a laser cutter can be used on almost any type of material. From Plywood and MDF woods to colorized acrylic, the possibilities are quite endless.
Things to look for When Buying an Inexpensive Machine
You should know that buying a laser cutting machine is a crucial decision for businesses as well as many American households. This sophisticated and advanced piece of technology leverages high-powered lasers in order to engrave designs on different surfaces, such as wood and glass. It does it with impressive accuracy and finishing.
However, not all laser cutters are created the same, and you have to consider different things before purchasing a laser engraving machine. Some of them are:
Project Requirements
Your cutting and engraving needs and project requirements should guide your decision to purchase a laser cutter. So, first, determine what you need to achieve by using this machine and the requirements of your common projects. And determine which kind of material you have to engrave or cut, such as plastic, wood, or paper, before buying an inexpensive laser cutter.
The manufacturing of automobile parts requires higher precision or finished product quality. So, if you are in the auto industry, precision should be an essential variable in your decision.
Silicon is yet another material with a broad range of uses and applications that can benefit from precision laser cutting. Precision laser cutting allows engineers and other professionals to produce much smaller silicone parts than is possible with most other cutting methods.
Maintenance
Another thing to consider before buying an affordable laser cutter is maintenance. It is essential to know how frequently you will have to perform the maintenance work on the machine and whether you will be able to perform it yourself or need to hire somebody else.
Ask the company's representative relevant questions about service availability. The best thing is that with today's technology, you don't need much maintenance. However, when a laser cutting machine goes down, you will want it back up and operating as soon as possible.
Determining whether the cutting device is simple to maintain can be complicated sometimes, so you have to be careful. Note that post-sales services are important. You need technical support, training courses, and more to make the most of your machine and minimize downtime.
Replacement Parts
You should also consider whether the replacement parts and components are readily available for the laser cutter you are considering. This will be helpful when the laser engraving tool breaks down.
So, find out about parts availability as well as delivery. Regardless of the quality of the machine, there will often come a time when you'll need to replace a few parts – no matter how well or carefully you maintain your laser cutting machine. This is why it is vital to know whether all the replacement parts are available with ease.
Why You Should Choose OMTech for an Affordable Laser Cutter
Here are some reasons you should choose OMTech:
Founded in Anaheim, California, OMTech is a leading provider of lasers and laser-based technology for commercial, industrial, and regular household customers. Since their formation, they have been dedicated to providing the best equipment and customer support in the industry.
They know that the purchase of a laser cutting machine can be a challenging and overwhelming task. They will provide what you need rather than overselling you. Their broad and diverse product range has all the ammunition to exactly match outstanding benefits to your precise needs.
Also, you can get complete and quick answers to most operational and engraving challenges. They offer customers a comprehensive library of downloads, relevant documents, troubleshooting guides, and video tutorials. You are also just one click away from their friendly and courteous support.
You can also connect with the OMTech Community in various ways. From their popular social media pages and Facebook Groups to the new and improved OMTech Forum, you can easily get advice from many other laser cutter machine owners. Looking for an affordable and quality laser cutting machine? OMTech's machines produce outstanding results with consistent reliability and high customer satisfaction.
  For more visit the article on this website.