The Ultimate Black & Mild Cigars Guide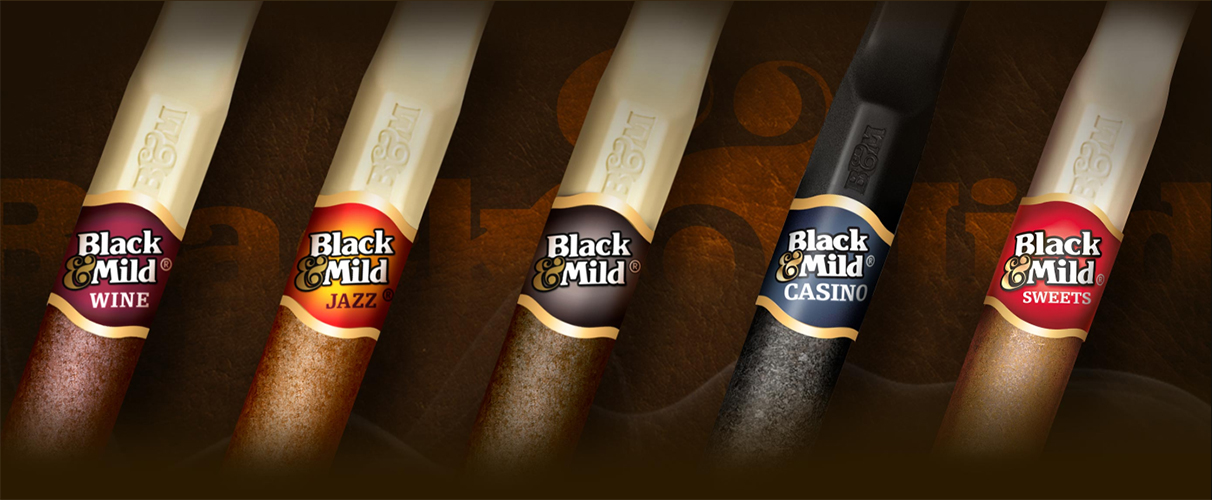 Everything to Know About Black & Milds
All around the world, smokers from various backgrounds are familiar with the bold and sweet flavors found in Black & Mild cigars. However, have you ever stopped to think about where these cigars come from? After all, the Black & Mild brand name is infamous in cigarillos, cigars, and even pop culture. As it happens, that's exactly what we are here to discuss! 
Below, we'll walk you through everything you could ever want to know about the Black & Mild brand. In addition to this, we'll talk about Black & Mild tobacco blends, flavors, products, and more. Armed with the facts, the next time you light up one of these stoggies, you'll be a Black & Mild expert! Let's get rolling. 
A Lengthy Legacy in Tobacco 
Bold, rich, and satisfying, Black & Mild cigars have roots that stretch way back in tobacco history. Apart from their premium styles and flavors, these cigars have a history that's almost as rich as the smoke they produce! 
Before we can explain the Black & Mild brand, you'll need the facts behind John Middleton's cigar company. As many know, John Middleton Pipe Tobacco is a famous and flavorful blend. Did you know that this same company created Black & Mild Cigars? Well, now you do! 
The John Middleton Cigar Co. 
In the year 1856, John Middleton opened his first small tobacco shop located in Philadelphia, PA. At the time, he never could have known how famous his tobacco blends would one day become! Ultimately, these cigars and cigar blends would be known around the world. 
As his company grew and expanded, headquarters were changed. Ultimately, the John Middleton Cigar Company wound up in Limerick, PA. Today, it's still located there. Although the company is now owned by the Altria tobacco group, they're still making the same amazing blends! 
The Invention of Black & Mild Cigars 
With this in mind, we can now go over Black & Mild Cigars! For decades, these cigars have been a fan favorite in the United States. With worldwide acclaim, smokers enjoy these cigars in over 40 countries!  
Black & Mild cigars were invented in the 1960s when John Middleton's Cherry Pipe Tobacco was stuffed in a premium wrapper. One puff and tobacco aficionados were in love. Not long after, Black & Mild Cigars were born. As the brand evolved, so did their styles, flavors, and products. Understandably, they've been a hit favorite of smokers since 1968! 
Black & Mild Cigars Today 
Today, Black & Mild Cigars come in an extensive range of flavors, styles, blends, and more! Next, we will discuss key aspects of these flavorful cigars and cigarillos. That way, you'll have a better idea of what's really available to you as a smoker!
Cigars and Cigarillos 
For one thing, Black & Mild offers cigars, cigarillos, Minnis, and so much more. If you like filtered cigars, they have both wood-tipped and sweet-tipped variants in a range of flavors. Otherwise, they offer cigarillos in an array of mouthwatering styles. On top of that, Black & Mild offers original rich full-sized cigars! No matter what you prefer, there's a good chance Black & Mild can hook you up
Mouth-Watering Black & Mild Flavors
Whether you like creamy, fruity, earthy, aromatic, or sweet cigar flavors, Black & Mild probably have something up your alley. They offer flavors like Sweet Cream, Grape, Green, Jazz, Casino, Apple, Wine, Cherry, and so much more. It's easy to see why they're so popular!
Buy Black & Mild Cigars Online Cheap
These days, you can even buy Black & Mild Cigars online for amazing prices! Additionally, when you shop online, everything gets shipped to your front door. Also, you can access a better range of flavors and styles. 
To see these cigars yourself and taste their rich history, simply click the above link! You'll get to shop for Black & Milds at extremely low bulk discount prices. Plus, you can shop for an array of other great brands as well.