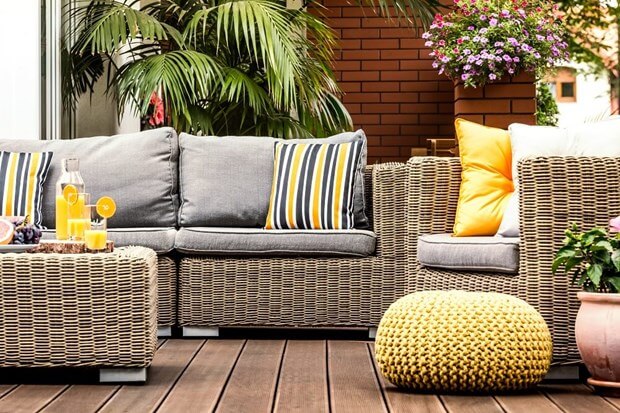 These seven outdoor patio additions will turn your outdoor space into a relaxing hangout space, which you will want to spend all your time.
The average American only gets around five hours of free time a week.
Because of this, we must cultivate a nourishing home environment, especially in our outside area. Outdoor patios are a fantastic way to gather your loved ones, wind down, and express your exterior designer skills
If you're stumped for inspiration, you've come to the right place. Here are seven must-have additions for your outdoor patio.
A Gazebo
One of the top outdoor patio ideas is to install a gazebo. It lets you create a living space while providing coverage all year round. You can add flowy curtains, fans for the patio, and even heaters for cooler evenings.
You should also add greenery to your gazebo as it keeps you feeling relaxed while looking beautiful. Dot tropical varieties around the exterior or create small "green corners" and grouping smaller plants at the edge of the space. And a gazebo isn't complete without a funky set of outdoor patio cushions and a couch for guests to lounge on.
Outdoor Kitchen
It's always a hassle when you host backyard parties and you have to dash between your kitchen and patio. Instead, build an outdoor kitchen that includes your BBQ, a built-in cooking space, and a large dining table so you can feast in comfort. When choosing your grill, determine how much space you'll need, the amount of food you want to cook and if you want additional features.
Add charming outdoor patio furniture and get an elegant outdoor patio set of crockery along with a serving cart so it's easier to entertain. Make the area cozy by adding a collection of outdoor rugs. Take time and experiment with octagonal-shaped ones or carpets made from natural materials like wool.
You should also create a herb garden with vertical hanging or tiered garden planters. Grow basil, thyme, and your favorite veggies to promote healthy eating in your household. Or add a flower box to your fence to spruce it up.
String Lights
Set the ambiance by adding outdoor patio lights to illuminate gorgeous evenings. Consider installing beams on your gazebo or hanging a chandelier from your porch's roof. You should also consider path lighting, it's not only practical but they're a beautiful way to guide guests to your patio.
Hang string lights across your patio, wrap them around poles, or add them to the underside of an umbrella for an extra inviting atmosphere. You can also get the family involved and make paper lanterns to make your outdoor patio shine.
Outdoor Games
Revolutionize family game night by taking the competition outside. If you're a savvy DIYer, construct your backyard bowling lane and host a tournament to see who is the best. You can also try giant Jenga or Scrabble so you can enjoy afternoons on your patio. Or try Cornhole as it doesn't take up much space and many people are familiar with it.
Fire Pit
You don't have to forgo evenings on your patio in the winter, simply add a little heat. Heaters and fireplaces warm you up the entire season so you can spend longer catching up with loved ones. Most patio heaters work via electricity, propane, or natural gas so see which one works best for you.
Fire pits are great for cookouts and a major plus is it doesn't damage your lawn. Many models are easy to move and you can store them away in a garage or a shed when you don't need them. And complete your patio's aesthetic by dotting tiki torch styles around your yard. You don't even have to buy them, it's possible to transform mason jars or old wine bottles into miniature ones.
Outdoor Bar
A major benefit of building an outdoor bar is you create the perfect space to entertain. You don't have to spend a fortune either, simply decide which is the best area, how you want people to use the space, and whether you want a theme.
If you want a rustic bar then consider timber whereas tiling is great for modern designs. It's possible to experiment with different textures and materials as it'll turn out unique. Then decide which appliances you need and whether you want to turn it into a whiskey bar or one that mostly caters to beer.
You can even transform your kitchen window into an outdoor bar. Install brackets on the exterior wall beneath the window, add a painted piece of plywood on top, and push several barstools underneath so guests are comfortable.
And if you're not keen drinkers, then fill drinking dispensers with lemonade and ice tea so guests can refill whenever they please.
Patio Swing
There's no greater place to hang out on your patio than on a swing. Not only is it fun for both kids and adults but it offers additional seating for visitors in the shade. You should also hang a hammock either on a tree or a backyard hanging bed where you can while away the afternoon with a good book.
That's What to Add to Your Outdoor Patio
Now you know the best additions to your outdoor patio.
Install a gazebo so you can enjoy your backyard all year round, build an outdoor kitchen to cater to guests, and build a fire pit so you can all hang out. You do not need to break the bank to have a great outdoor patio, all you need is a little creativity. Happy designing!
Hopefully, you found this article helpful. If so, please check out our other content on everything from Fashion to Home Decor.